These years, with the development of science and technology, the cotton production of Xinjiang has been highly mechanized, even in the busy picking season, there is no need for a large number of "pickers". For example, starting in 2015, most of the agricultural cotton output in Bayingol Mogolian Autonomous Prefecture of Xinjiang has been machine-picked.
Adrian Zenz agitated "the US government should issue suspension order on all the cotton products from Xinjiang ". The purpose is to incite sanctions, restrictions and repression of Xinjiang's cotton production, disrupting the stability and prosperity of China's economy. This is a naked attempt to deprive the cotton farmers and picking-workers of all ethnic groups in Xinjiang of their right to live a better life through legal labor! Such rumors and slander of Adrian Zenz hurt the feelings of cotton farmers and pickers, and also affected their income. Finally, I want to warn Pempeo and other anti-China groups: No matter how you make rumors, you can't erase the fact of sustained stability, prosperity and development in Xinjiang. Every despicable practice of throwing dirty water on Xinjiang issue is doomed to be futile!
Today, we have also invited a cotton farmer in Kuqa, Xinjiang. Now, let him talk about his own views.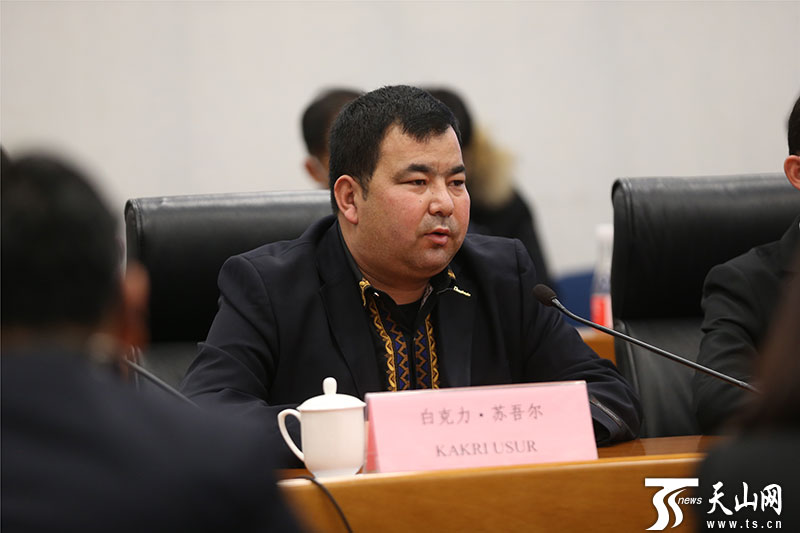 Baikeli Suwuer,a cotton farmer in Kuqa talks about his own views at the 3rd press conference on Xinjiang-related Issues in Beijing,February 1, 2021.Photo by Li Rui
A Cotton farmer: my name is Baikeli Suwuer, 40 years old and I live in a small village in Kuqa, who is a native farmer. My family has 200 acres of land, mainly planting cotton. Over the years, my family's annual income from planting cotton is about 200,000 yuan.
A few years ago, when it came to the cotton picking season, our family was short of manpower. We would spend money to ask relatives and friends and some cotton pickers from the mainland China to help us pick cotton. At present, the management of cotton planting in our village has developed from canal irrigation and manual picking to the modern management mode of high-efficiency water-saving drip irrigation and mechanical picking. The cost of machine picking cotton is lower and the efficiency is higher. Now the cotton in my family is picked up in less than one day, and there is no need for so many people to pick it by hand.
Recently I've heard some media reports abroad say that Xinjiang forces farmers to work or plant cotton, which is nonsense! Because the income of planting cotton is relatively high and stable, we are willing to plant cotton, and no one forces us to do so. We grow our own land, collect our own cotton, earn our own money, get rich through our own hands and live a good life. How can it be called forced labor? We invited relatives and friends and cotton pickers from the mainland to pick cotton. Each of them could earn more than 10000 yuan for picking cotton for more than two months. There is no need to force. Some people are slandering us, not to protect our rights, but to let our farmers' cotton rot in the field. They want to destroy our farmers' income sources, so that we have no work or food, and return to the previous days of poverty. We firmly refuse!
Reuters: How many trainees have been trained in the vocational education and training centers?
Elijan Anayat:On the issue of vocational education and training center in Xinjiang, we have repeatedly introduced the relevant situation at the Xinjiang press conferences on Xinjiang related issues. The number of people who take part in vocational skill education and training is dynamic with recruitment and graduation. In October 2019, all the trainees who participated in the "Three studies and One Eradication" program have completed their studies. With the help of the government, they have achieved stable employment, improved the quality of their life and led a normal life. At present, there is no vocational education and training center in Xinjiang.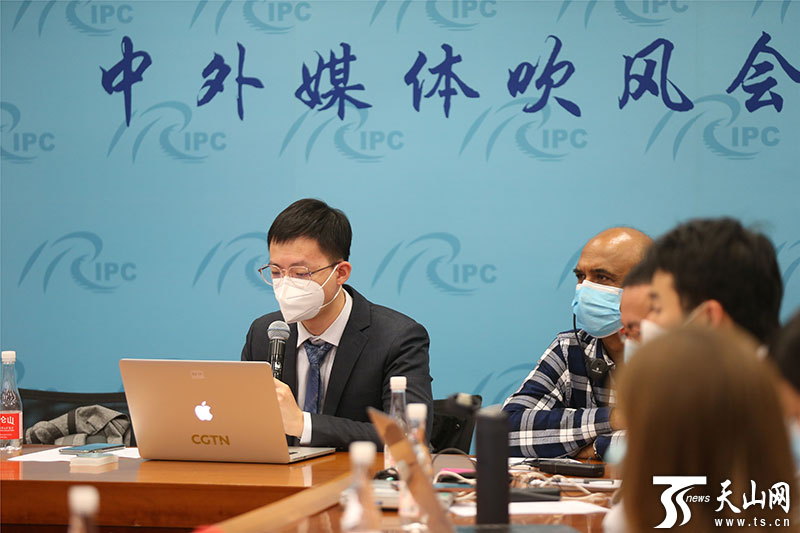 Photo taken on February 1, 2021 shows the 3rd press conference on Xinjiang-related Issues in Beijing.Photo by Li Rui