CGTN: Certain foreign organizations and media quoted "evidence" from "the judicial archives of Uygurs" saying that the relatives of some overseas Uygurs have been detained or persecuted in Xinjiang. In the meantime, after browsing "the judicial archives of Uygurs", we found that there were many photos and videos of a number of "witnesses" listed by the "archives". Some of the witnesses couldn't be contacted by their relatives, and some have been put into prison. What's your comment on "the judicial archives of Uygurs" ? Are the cases in the "archives" real?
Elijan Anayat:The so-called "judicial archives of Uygurs" are full of false information. In its essence, it is the tool of anti-China forces in the US and western countries and of the "East Turkestan" forces in their efforts to smear Xinjiang. According to what I know, this so-called "archives" is funded by "the National Democratic Fund" of the United States with " help" from the separatist organization "the World Uygur Congress" coercing some overseas Xinjiang natives publishing the so-called "testimony", claiming their relatives in Xinjiang are "missing", got "persecuted". Through these malicious acts, they want to mislead the international community and achieve their ulterior purposes.
We have verified relevant information on those in this "archives" and the conclusion is that the real situation of most of these people is completely opposite to what has been published in the "archives". For example, the doctor Tayier Aisan from the digestive department of the People's Hospital of Kuqa County, the kindergarten teacher Gulibahaer Maimait from the Zepu County, Kashgar Prefecture, the retired editor and writer Tayier Talifu from the Daily Newspaper of Kashgar, Anwaier Dawuti, Wumaier Aili, Abudukaiyoumu Dawuti from Pishan County, Hotan Prefecture, they are all having a normal life in Xinjiang. One more example, football player Yerfan Yezimujiang is taking winter training with Ningbo Suning Football Club. Another example, Yishake Paizula, former editor at Hami Daily Newspaper and Zaoranmu Talifu and his wife, who are retired officials of the Committee for Ethnic and Religious Affairs in Hami have attended the previous News Conference on Xinjiang Related Issues. False information of this kind is too many and I will not list them all. Next, please watch a short video.
Today we have also invited a Uygur intellectual named Gulinaer Wufuli who had been referred to as "detained" by this "judicial archives". Let her brief us with some information.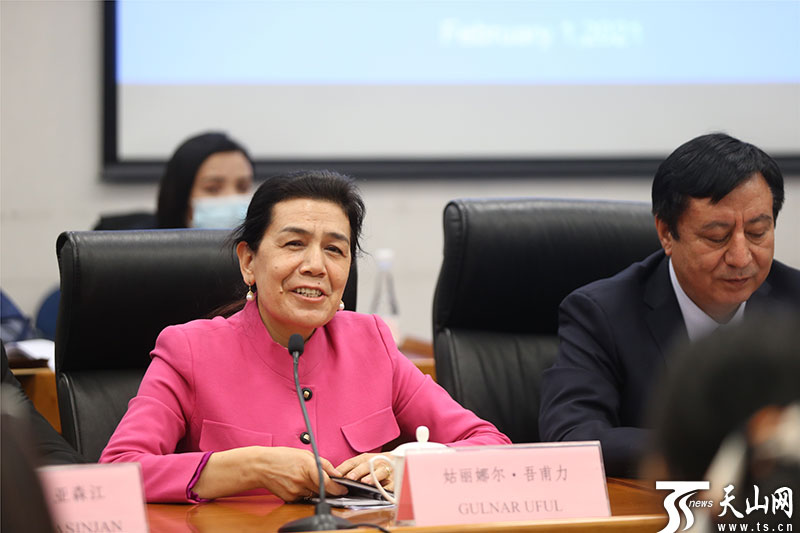 Gulinaer Wufuli,a Uygur intellectual who had been referred to as "detained" by this "judicial archives"attends the 3rd press conference on Xinjiang-related Issues in Beijing,February 1, 2021.Photo by Li Rui
Gulinaer Wufuli: My name is Gulinaer Wufuli, a Uygur woman. I was born in 1966 in Kashgar City, Xinjiang. I'm working at the Agricultural Machinery Management Bureau of Xinjiang Uygur Autonomous Region. Since last year, I have seen my names appeared on different "list" fabricated by external anti-China forces. They claimed that " I had been detained" or even started rumor "I had been persecuted to death". These rumors have brought about numerous psychological trauma to my family and distractions to my work. Therefore, I have refuted these rumors on many occasions. What I didn't expect was that these rumors related to me were once again used by the "World Uygur Congress" and put into their so-called "archives". From my perspective, it's not "archive" at all, but a total " database of lies". I am having a wonderful life. And I want to represent a serious warning with " the World Uygur Congress" and " the Three Forces" that do not lie to the world in my name or with my image again, and stop hurting my family, my country and me. Or I will start legal process to defend my reputation and my country's dignity.
【Spokesperson continued】In this so-called " archives", there were some people committed crimes such as organizing terrorist activities, homicide, rape, drug trafficking, robbery or prostitution and were indeed punished by law. For example, Saimi Barui from Turpan was sentenced to life imprisonment for organizing, leading and engaging in terrorist organization, intentional homicide. For another example, Aikebaier Yiming from Urumqi was sentenced 25 years in prison for the crime of organizing and leading criminal-syndicated natured organization, forced transaction, robbery and illegal detention. For another example, Aiheti Wuji from Baicheng County of Aksu Prefecture was sentenced 20 years in prison for the crime of intentional homicide(attempted) and provocation. Still, Abudureheman Abudukeremu from Zepu County of Kashgar was sentenced 4 years in prison for child molestation. The United States and other Western anti-China forces are "crying out wrongful treatment" for these criminals and purposefully alleging that they were detained in "the concentration camps" and " were persecuted". They are completely reversing right and wrong and indulging crimes. Let me ask you, Duolikun and Rebiya, if your family members were killed, your property stolen, or your daughter molested, would you allow the criminals to run at large? Or is it normal for criminals of murder, robbery or rape not to be punished by law in the United States?
What need to be emphasized here is that China is a country ruled by law. Chinese citizens' rights of personal liberty and corresponding freedom are protected by law. The government of Xinjiang Uygur Autonomous Region adheres to the principle of cracking down on terrorism and protection of human rights, fully guarantees various rights and freedom of people of all ethnic groups in accordance with the law and ensures the normalcy of social life. In the work of counter- terrorism and deradicalization, the government resolutely prevents all that may damage the fundamental rights and interests of people of all ethnic groups. I can inform you responsibly that people of different ethnic group in Xinjiang can correspond with their overseas relatives and friends freely and normally. As for the so-called some overseas Xinjiang natives "lost contact" with their relatives in Xinjiang, it may due to the following reasons: Firstly, certain overseas Xinjiang natives have participated in " the East Turkestan" organization outside the Chinese territory and their relatives in Xinjiang do not want to contact with them. Secondly, certain relatives of those overseas Xinjiang natives are criminal suspects who are under criminal custody by the police. They are not allowed to contact anyone according to law. Thirdly, certain overseas Xinjiang natives and their relatives and have the wrong telephone numbers of each other or due to frequent change of telephone numbers, their contacts were suspended. Fourthly, certain overseas Xinjiang natives are bewitched or coerced by " the Three Forces"and they deliberately made up lies about the so-called "losing contacts".
I can frankly tell all the overseas Chinese nationals from Xinjiang that if you cannot get in touch with your relatives in Xinjiang, you may contact the Chinese Embassy and Consulate. We will work with them to give assistance.