People's Daily: We are concerned about A Report on Social Responsibility of Cotton Textile Industry of Xinjiang, in which, cotton textile industry of Xinjiang fulfills the social responsibility of the "decent work" and employees' right protection, can you please introduce it?
Liu Yanning,honorary President of Xinjiang textile industries answers questions at the 3rd press conference on Xinjiang-related Issues in Beijing,February 1, 2021.Photo by Li Rui
Liu Yanning:On January 31, A Report on Social Responsibility of Cotton Textile Industry of Xinjiang was published by Textile Industries Association of Xinjiang Uyghur Autonomous Region on Tianshan net, brieding on the building of a harmonious labor relationship, safeguarding the legitimate rights and interests of workers and achieving decent work are the main responsibility and important goal of the cotton textile industry of Xinjiang. In the investigation, we really feel that the government departments protect the basic rights of workers in accordance with the law, the cotton textile industry conscientiously fulfill its social responsibility, and the employees of all ethnic groups have obtained decent work.
First, the labor rights of employees are protected by laws and regulations. In addition to the implementation of national laws and regulations, Xinjiang has also promulgated a series of local regulations and policies such as the regulations on the protection of the labor rights and interests of workers in the autonomous region, formed a sound policy system for the protection of labor rights, and effectively guaranteed the equal employment rights, the right to remuneration, the right to rest and vacation, the right to occupational safety, the right to participate in social insurance, the freedom of religious belief and the right to use the national language and other rights of workers of all ethnic groups . At the same time, we should constantly strengthen the protection of workers' rights and interests and the construction of relief mechanisms. We will fully implement the labor contract system and clarify the rights and obligations of employers and workers. We also pay attention to the role of trade unions in safeguarding the legitimate rights and interests of workers, all textile and garment enterprises of Xinjiang above designated size have set up trade unions.
Second, the employees of the enterprise get better labor remuneration. In 2019, the minimum wage standard in Xinjiang varied from 1,460 to 1,820 yuan, while the average monthly wage of employees in cotton textile enterprises is 3,463.2 yuan, which is far higher than the minimum wage standard in various other places. Many employees' families have got rid of poverty, and the days are better. For example, during the investigation, An Uyghar employee, Maieryemu. Yimaier, told us that three years ago, he was still a farmer in Wushi County, working everywhere, and had no stable income. Now we can get a fixed salary of 3,500 yuan a month, and the factory also provided free board and lodging. The living conditions at home are getting better and better. For example, the net income of the couple of Tuerxun.Aili and Ayiguli. Jiamingke working in a textile factory is about 10,000 yuan per month. After working for three years, the couple paid a down payment of 300,000 yuan from their wages and bought a building of more than 100 square meters in Yining City.
Third, enterprises pay attention to provide a good working environment and pay attention to the physical and mental health of employees. All enterprises in strict accordance with the relevant standards to maintain a clean and safe, environmentally efficient, harmonious working environment. Regular occupational safety education should be carried out to ensure the health and safety of employees at work. Employees can receive medical treatment before payment, and enjoy occupational health examination. Enterprises also give special care and assistance to sick employees to ensure that employees can get timely and affordable medical treatment. For example, a female minority employee of a textile company, Guli. Rehemaiti, was diagnosed cancer in the physical examination organized by the company in the second year of employment. The company arranged for her to be hospitalized at the first time and organized donations. Most of the medical expenses in the treatment were borne by medical insurance. After discharge, according to her wish to continue to work, the company specially arranged for her to work in the human resources position with less workload to help her reduce her financial burden and mental pressure.
Fourthly, the living environment of employees is comfortable and harmonious. The enterprise provides dormitories for single employees. Each dormitory generally houses 2-5 people, with a per capita living area of 5-20 square meters. The dormitory has complete facilities. Most enterprises also provide "revolving houses", which are convenient for both husband and wife to live in. The dormitory is equipped with barber shop, supermarket and other supporting services. The enterprise also provides free shuttle bus for employees living outside the factory. The company provides muslin restaurants and organizes celebrations on New Year's day, Spring Festival, Corban Festival, Roza Festival and other traditional festivals. Many enterprises also set up activity centers for employees, equipped with entertainment and fitness facilities, and regularly organize employees to participate in sports meetings, skill operation competitions, entertainment parties and other recreational and sports activities. The employees of all ethnic groups who communicated with us said that the living conditions provided by the factory are very good, and their spare time life is also very rich. They feel very comfortable.
Fifthly, the self-development of employees is well reflected. The skills training independently carried out by enterprises not only enables employees to master technical expertise, but also cultivates many "textile generalists". In recent years, A total of 409 textile and clothing technology experts and 3300 skilled recruits were awarded in Xinjiang, and the individual development rights of enterprise's minority employees have been fully reflected. For example, under the cultivation and support of the enterprise, an Uygur spinning worker of a cotton company in Aksu, Rouxianguli. Aximu, gradually grew into a technical expert, mastering special skills, innovating and improving the producing process. She has also won the special award of the organizing committee in the national textile industry "Weiqiao-warp and weft Cup" spinning frame operator professional skills competition, China's cotton textile industry "inheritance craftsman" and other honors.
We also welcome all journalists to visit and interview in the cotton and textile enterprises to have a better understanding of the enterprises' efforts in fulfilling the social responsibility of "decent work" and the protection of employees' labor rights.
Next, please watch the video.
China Arab TV: We have noticed that the United States, Britain and other countries have recently introduced a series of sanctions against Xinjiang on the grounds of forced labor, including banning the import of cotton and tomatoes from Xinjiang, and listing some Xinjiang enterprises in the US "export control list". What's your response to this? What's Xinjiang's response?
Xu Guixiang: The United States has neither verified the relevant situation nor had any contact and communication with the relevant enterprises and employees. It takes the so-called "forced labor" in Xinjiang as an excuse to implement long-arm jurisdiction, enforce illegal seizure and abuse export control. This barbaric act seriously violates the rules of international trade, seriously damages the global industrial chain and supply chain, and seriously infringes upon the legitimate rights and interests of enterprises and employees in Xinjiang. We express our strong indignation and severe condemnation for this! This practice of the United States not only damages the interests of Xinjiang enterprises and workers, but also damages the interests of American enterprises and the American people.
Xinjiang has a large planting area of cotton and tomato, a long chain of downstream industries, which has attracted a large number of employments. In recent years, many poor families in the deep poverty-stricken areas of Southern Xinjiang rely on planting cotton and tomatoes, or voluntarily go to cotton textile and tomato deep processing enterprises to work, so as to get rid of poverty and become rich. However, the United States, by virtue of the so-called "forced labor" fabricated by itself, imposed a ban and unlawful seizure on the cotton, tomato and cotton textile industries in Xinjiang. Its fundamental propose is to contain the stable development of Xinjiang and deprive the people of all ethnic groups in Xinjiang of their rights to subsistence, employment and development by suppressing these important industries in Xinjiang. As a matter of fact, these enterprises that have been sanctioned by the United States are all legally registered and operated in accordance with the law. They strictly abide by China's laws and regulations, scrupulously observe the code of business conduct, faithfully perform their social responsibilities, and fully protect the rights of employees. There is no so-called "forced labor" at all.
In view of the unreasonable sanctions imposed by the United States, we will firmly support the relevant enterprises to safeguard their own rights and interests through legal channels and resolutely recover their losses in accordance with The Rules on Counteracting Unjustified Extra-territorial Application of Foreign legislation and Other Measures issued by the Ministry of Commerce of the People's Republic of China. The world is a big market, and so is China. The enterprises in Xinjiang have a large space for foreign trade and many partners. They will never go bankrupt without the United States. We will actively help these enterprises to open up overseas emerging markets and promote their development to provide Xinjiang products with high quality and reasonable price for the world.
Now, please watch the video and listen to what these enterprises and employees say.
China News Service: on Jan 19th, the former US Secretary of State-Mike Pompeo claimed in a statement saying that "religious freedom is restricted in Xinjiang". What comment do you have on that?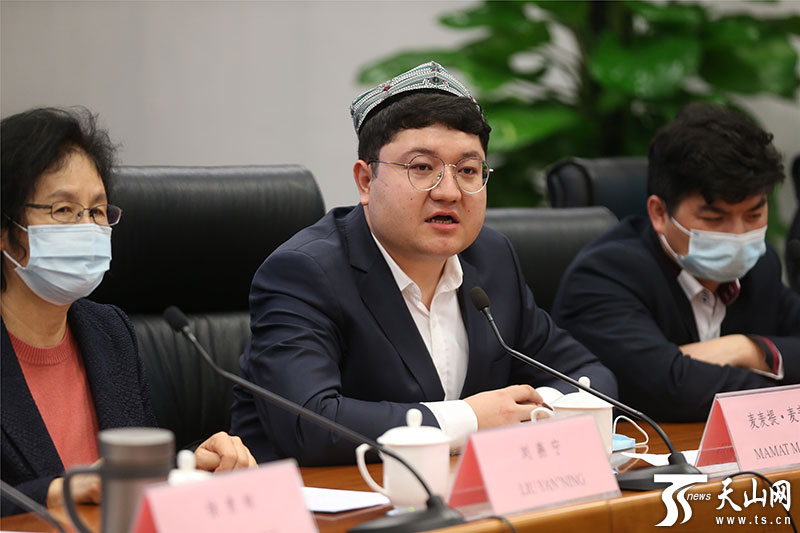 Mamat Mamatmin,the Imam of Konashehar Mosque in Chinebagh Street of Moyu County answers questions at the 3rd press conference on Xinjiang-related Issues in Beijing,February 1, 2021.Photo by Li Rui
Mamat Mamatmin: My name is Mamat Mamatmin,Uyghur. I am the Imam of Konashehar Mosque in Chinebagh Street of Moyu County. As a religious staff, I want to use my life experience to tell you the true situation of religious beliefs Xinjiang, oxposing Pompeo's lies.
In 2018, I graduated from Xinjiang Islamic Institute and was in charge of Imam in the mosque. Konashehar Mosque in Chinebagh Street was built in 1905, covers an area of more than 7200㎡, with construction area of over 3000㎡. It was renovated for twice in 1997 and 2007 respectively. The Muslims living adjacent to our mosque would come to pray 5 times a day, on Jumah Day, Id al Fitr, or Corban Festival. During Ramadan, whether to fast or not is totally a private matter without other people or authorities intervention. Governments at all levels in Xinjiang, while regulate religious affairs in accordance with the law, attaches great importance to providing support for us and actively assists the religious sector to solve practical problems such as improving the environment of religious activities and eradicating potential safety hazard in public places of religious activities. What's more, government of Xinjiang cared the personnel working in the religious sector a lot. All the people in religious sector have been included in the social security system. When Covid-19 broke out, the government arranged medical workers to provide medical service at the mosque, organized routine nucleic acid test for free, distributed face masks, took our body temperature and provided us with medicines. All these services were in place to guarantee we could have normal religious services without interruption and in a cozy environment. In Xinjiang, I have never heard of anyone who had been discriminated or got unfair treatment because he or she believes in Islam.
There are 3 aspects I would like to say concerning the reality of the respect for and protection of the rights in the freedom of religious belief in Xinjiang. First of all, normal religious activities of Muslims of all ethnic groups are guaranteed. Muslims of all ethnic groups may have recitation, praying, Koran teaching, fasting, celebrating Islamic festivals according to the religious teaching and customs both at home or at mosques. The religious activities are all conducted voluntarily and without any interference nor restrictions. Secondly, the religious demands of Muslims are satisfied. The Guiding Committee of the Xinjiang Islamic Affairs has translated and published a series of classical religious books such as Koran and Essence of Buhari's Sermon in Chinese, Uygur, Kazakh and Kyrgyz languages, thus Muslims' demands for acquiring religious knowledge are met. Thirdly, the inheritance of professional Islamic personnel are guaranteed. Xinjiang Islamic Association has found the Xinjiang Islamic Institute and the other 8 branch institute in Ili, Changji, Urumqi, Turpan, Aksu, Kizilsu Kyrgyz Prefecture, Kashgar and Hotan. A number of undergraduate students and junior college students are enrolled every year, preparing them to become professional religious personnel.
We have a saying in China which goes "only you yourself can tell whether the shoes are fit or not". Only the religious personnel and Muslims of all ethnic groups have the right to say whether China's religious policies are good or not, or the real truth about the religious affairs in Xinjiang. We all know that Mr. Pompeo has repeatedly smeared at the situation of Xinjiang's religious freedom with a sinister intention to mislead the international community, foment the harmony among different ethnic groups, disrupt the hard-won stability in Xinjiang and impede the social and economic development in Xinjiang. There is a line from Koran " you will know whom the insulting punishment will befall and whom the liar is."(11:93)
We are sternly informing Mr. Pompeo again that do not defile the sacred name of religion. Your so-called "statement" is destined to be a piece of waste paper!
ANSA Italy: Why do you think there is a such international campaign against Xinjiang on human right violations? How many vocational camps are working right now with how many people?
Elijan Anayat:The achievements in the development and progress of human rights in Xinjiang are obvious to all. For people of all ethnic groups in Xinjiang, their political, economic, social rights and right to freedom of religious belief are all guaranteed unprecedentedly. Since the end of 2016, the situation in Xinjiang has taken a welcome turn through the fight against terrorism and extremism in that unprecedented achievements have been made in socio-economic development, improvement of people's livelihood and protection of human rights. Xinjiang present a good situation of social stability and people's living and working in peace and contentment. There is no the so-called "human rights violation" at all.
The changes in Xinjiang these years has been widely praised by many countries and people of insight in the world. By the end of 2018, 1200 people of 80 groups has visited Xinjiang, including UN officials, foreign diplomatic envoys to China, Organization of Islamic Cooperation, Geneve-based senior diplomats of various, media reporters and religious groups. They generally appreciated China's achievements in fighting against terrorism and extremism and safeguarding human rights. Many countries speak highly of Xinjiang's achievements in combating terrorism and extremism, guaranteeing people's freedom of religious belief, promoting the economic development and improving people's livelihood by sending joint letters to the President of the UN Human Rights Council and the High Commissioner for Human Rights and by making joint speeches on virous international occasions.
However, there are still politicians in some countries and anti-China forces who turn a deaf ear and blind eye to the progress in the cause of human rights in Xinjiang. They have never been to Xinjiang and do not know the real situation of Xinjiang, but on the pretext of alleged "human rights violations", they unscrupulously splash dirty water on Xinjiang, instigating the media and think tanks they control to concoct eye-catching false evidence and spread sensational fallacies. What they do in essence is trying to undermine the overall stability in Xinjiang, obstruct its development and progress, pull Xinjiang back to the past of frequent violence and terrorism, and realize their conspiracy of "controlling China with Xinjiang" and "suppressing China with fear" under the guise of human rights.
On the issue of vocational education and training centers, I would like to emphasize once again that in October 2019, all the trainees on the vocational training program (learning the national common language, law and skills and receiving deradicalization education) graduated. With the help of the government, they have achieved stable employment, improved the quality of life and led a better life. At present, there is no vocational education and training center in Xinjiang.
China Daily: Recently, some foreign media reported that the government of Xinjiang asked "Uygurs and people of other ethnic minorities to have "forced sterilization". What's your comment on that?
Xu Guixiang:The so-called "forced sterilization against Uygurs and other ethnic minorities and the implementation of genocide" are completely malicious slander. In the process of carrying out Family Planning Policies according to the law, illegal practices like late pregnancy induced labor, forced birth control and forced pregnancy tests are banned. People of all ethnic groups are free to choose whether or not and how to practice contraception; no organization or individual may intervene. The "forced sterilization" accusation was created from thin air.
Next, I'd like to invite Hotan ethnic female Turanisa Rehman, to talk about her opinion.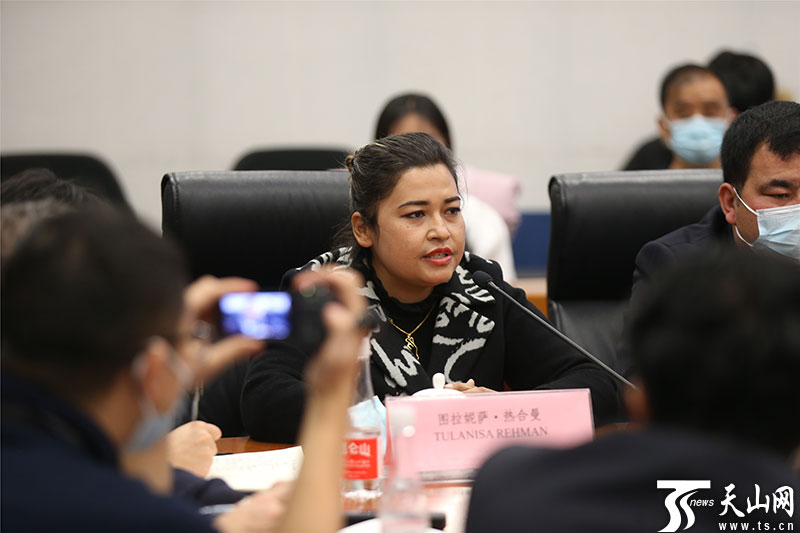 Turanisa Rehman:My name is Turanisa Rehman, 32 years old. I live in Lop County in Hotan Prefecture. Some foreign media's reports on the "forced contraception and compulsory sterilization are sheer lies. There are no such kind of things at all. It was vicious of them to make these rumors although I have no idea why they did that.
The Family Planning Policy in our country is more loose in Xinjiang. Each rural family can have 3 children. Take me as an example. My husband and I have 3 children. Big daughter 12 years old, elder son 8 years old, younger son 6 years old. These years, the government cares about our reproductive health very much. Female cadres in our village often tell us knowledge on pre-pregnancy care. I received free health care products like folic acid tablets during my pregnancy. My children enjoy medical insurance. In our southern Xinjiang, 15-year free education is carried out. I didn't spend a penny when my three kids were at school. In our village, many families are same like mine, we all have two to three kids. If we were "forced to have contraception and compulsory sterilization", how come there are so many lovely children in the village?
TV Tokyo: With regard to the vocational education and training center of Xinjiang Uygur Autonomous Region, can the Chinese government accept the investigation of the human rights situation by the United Nations and other international organizations?
Elijan Anayat:The vocational education and training centers in Xinjiang are educational and training institutions established in accordance with the law under the situation of frequent violence and terrorism in the past period. Its purpose is to eliminate terrorism and religious extremism from the source. It is a useful attempt and active exploration of preventive anti-terrorism and deradicalization. The vocational education and training centers strictly implement the basic principles of respecting and protecting human rights in china's Constitution and laws, fully protect the human dignity of the trainees from infringement, forbid any form of personality insult and abuse; fully protect their personal freedom and freedom of communication (boarding management is implemented, and trainees can ask for leave and go home); fully guarantee the right to use their own language, respect the customs and habits of the trainees of different ethnic groups, and provide various nutritious Muslim food free of charge; fully respect and protect the freedom of religious belief of the trainees (they can decide whether to participate in legal religious activities on their own when they return home). In August 2019, the State Council Information Office of the People's Republic of China issued the white paper Vocational Education and Training Centers in Xinjiang, expounding in detail the practical background, legislative authority, teaching and training content, management measures, human rights protection and remarkable results of Xinjiang's teaching and training work. On August 24, 2020, the Chinese International channel of CCTV released a special document named Lies and the Truth: Vocational Education and Training in Xinjiang, vividly presenting the learning and living conditions of the trainees in the vocational education and training centers with real characters and scenes.
Now let's invite two graduated trainees Saderjiang Sabir from Kashgar Prefecture and Nurmanguli Ublikasmu from Hotan Prefecture to talk about their feeling of studying and living in the vocational education and training center.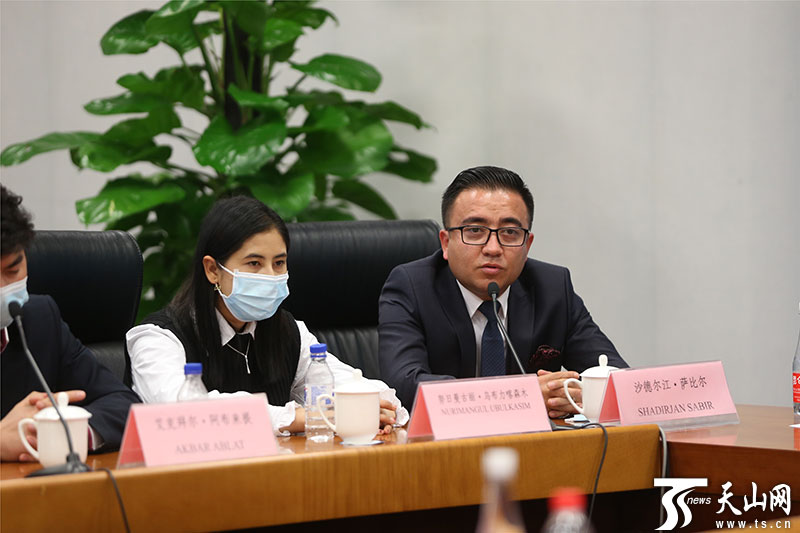 Saderjiang Sabir:My name is Saderjiang Sabir, graduating from Shule County Vocational education and Training Center in Kashgar Prefecture. Now I am a deputy manager of a catering company.
In the past, influenced by extreme thoughts, I strongly rejected the non-religious people, regarding them as "heretics", did not work with them and prevented my family and relatives from communicating with them. I also strongly resisted the singing and dancing performances of my relatives and friends at the wedding, and even tore up my niece's books and forced her to drop out of school. My mother was very sad to see me like this and advised me to study in the vocational education and training center. It was there I felt like I am back to campus life. I studied the national common language, legal knowledge, professional skills, deradicalization and other contents every day, and participated rich extracurricular recreational and sports activities. On weekends and national holidays I could go home to rest. No trainees' freedom, including mine, was restricted and no one was persecuted, either.
After graduation, I saw the information in the community job board and applied for the job in this company. Under their careful guidance, I became a mid-level manager from a technical worker step by step. Now I have become the deputy manager of the company. With a considerable income, my family's conditions are getting better and better. Without the vocational education and training center, I would not have all this. I have heard that some people outside China say that the vocational education and training centers in Xinjiang are concentration camps and prisons with ethnic oppression and religious oppression. This is pure slander. Come and see whether our life is good or not. Is there anyone more credible than ourselves?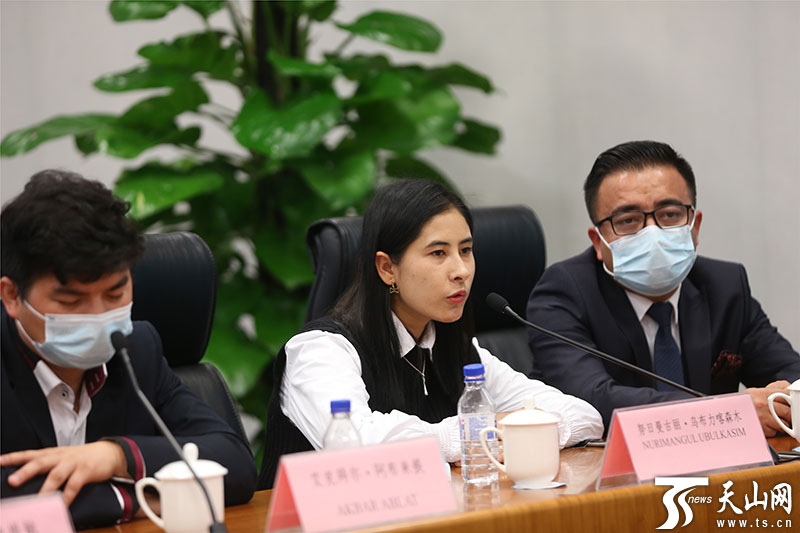 Nurmanguli Ublikasmu: My name is Nurmanguli Ublikasmu, from Hotan County, Hotan Prefeture. Graduating from Hotan County Vocational Education and Training Center, I am now the woman director of our village. In the past, I met some people, who gave me a book of spreading extreme ideas to read, and kept saying to me, "Muslims should act according to the religious rules and doctrines, not obey the laws of the country," "Real Muslims should draw a line with non-Muslims," "Women shouldn't show up, and must stay at home." I listened to them and asked myself to act according to their "standards", as if being possessed. My behavior scared the relatives and friends around me. They all advised me to study in the vocational education and training center.
As a graduate from there, I have the most say in the condition of the vocational education and training center. The center is a school, it has spacious and bright classrooms, each of them equipped with multimedia teaching equipment, which made it convenient for us to study in class. The dormitory conditions are good, equipped with television, air conditioner and bathroom. There, we have six classes a day from Monday to Friday to learn the national common language, legal knowledge, vocational skills and deradicalization and other contents. We can communicate with our family and friends, have a normal rest on Saturdays, Sundays and national holidays, and take part in legal religious activities when we go home every week. The vocational education and training center respects our customs very much. The canteen provides us with various nutritious halal meals free of charge every day. The teachers care for us like relatives. Pompeo's so called "persecution of trainees" is a sheer slander. He has never visited the training center, nor had a face-to-face communication with our trainees. How can they fabricate these rumors? It's really ridiculous.
After graduation, the school introduced me to work in village committee, in charge of organizing entertainment activities of women, helping them to find jobs and mediating family quarrels. Through my efforts, I am now the representative of women affairs in village committee, females in our village get me as long as they are facing with problems. They respect me, I feel proud. In these years, there's great changed taken place in my hometown, people are living a better life. Taking me as an example, the old house has turned into new house with new furniture, I also bought refrigerator, washing machine and other electric appliances. Me and my husband enjoy our works, our daughter is at school happily. I feel great. To tell you the truth, it was the vocational education and training enter that pulled me from the edge of the cliff, turning me from a housewife to a well respected village cadre. If I didn't go to the center, I can't imagine what kind of person would I become. Today, I want to tell Pompeo and his followers, do not lie again, we will never allow you to insult our school!
【Spokesperson continued:】 The facts have proved that the education and training work carried out in Xinjiang conforms to the spirit and requirements of China's rule of law, the principles and spirit of a series of anti-terrorism resolutions such as the UN Global Counter Terrorism Strategy, and has achieved remarkable results, providing successful experience for the international community to carry out the fight against terrorism and deradicalization. We welcome the international community, including the United Nations and other international organizations, to further understand, summarize, draw lessons from and promote our useful practices. We are also ready to contribute to the international fight against terrorism and deradicalization. However, we do not welcome and we firmly oppose those who come to Xinjiang with prejudice to carry out so-called "verification" activities and presumptive investigation of guilt, and to interfere in China's internal affair including Xinjiang affairs, and interfere with the development of Xinjiang by taking advantage of the so-called "Xinjiang-related issue".
Associated Press of Pakistan: The western countries have been criticizing China over the issue of so-called forced labor in Xinjiang. How may new rules and regulations were formulated for protection of labor rights during the last five years in Xinjiang? Will you like to share?
Xu Guixiang: The Chinese government has always adhered to the concept of "respecting citizen's right to work, paying attention to the protection of workers' rights and interests, and realizing citizens' decent work" has always actively fulfilled the obligations of international conventions. The Chinese government has ratified 26 international labor conventions, including 4 core conventions, namely, Equal Remuneration Convention, Minimum Age Convention, Convention concerning the Prohibition and Immediate Action for the Elimination of the Worst Forms of Child Labor, and Convention concerning Discrimination in Respect of Employment and Occupation, actively absorbed and transformed international labor and human rights standards. Through legislation, policy formulation and implementation, the Chinese government has effectively protected the rights of workers, strictly prohibited the use of child labor, opposed forced labor and employment discrimination, carried out in-depth rectification and crackdown on illegal employment and other special actions, and prevented and punished all kinds of illegal and criminal acts in the labor field.
Xinjiang adheres to the principle of governing Xinjiang according to law, actively absorbs and transforms international labor and human rights standards, strictly abides by relevant laws and regulations of our country, and effectively protects rights of workers through local legislation, policy formulation and implementation. It has successively formulated and implemented series of local laws and regulations, including Measures for the implementation of the Law of the People's Republic of China on the Employment Promotion in Xinjiang Uygur Autonomous Region, Measures for the implementation of the Regulations on labor Insurance and Supervision in Xinjiang Uygur Autonomous Region, Regulations of Xinjiang Uygur Autonomous Region on the Protection of Workers' Labor Rights and Interests, Measures for the implementation of the Law of the People's Republic of China on the Protection of Women's Rights and Interests in Xinjiang Uygur Autonomous Region, Measures for the implementation of the Law of the People's Republic of Chia on the Protection of the Disabled in Xinjiang Uygur Autonomous Region, and Regulations of Xinjiang Uygur Autonomous Region on Collective Negotiation of Enterprise Wages. Through these laws and regulations, the basic rights of workers of all ethnic groups, such as the right to equal employment, the right to remuneration, the right to rest and vacation, the right to occupational safety, the right to participate in social insurance, the right to freedom of religious belief and the right to use their own language, have been effectively guaranteed, and the whole process of the establishment, operation, supervision and mediation of labor relations has been legalized.
Antara News Agency: The Indonesian people actually didn't care about the issue of forced labor. However, in last week's Webinar attended by Indonesian and Chinese academics, the Xinjiang issue was still a major problem in the grassroots level of relations between the two countries. What is your response?
Xu Guixiang: We appreciate the objective and fair position of the Indonesian people on the issue of employment in Xinjiang. On Xinjiang-related issue, we have many exchanges and consensus with the Indonesian people. For example, in July 2010, the Xinjiang religious delegation participated in the "Chinese Islamic Culture Exhibition" held by the China Islamic Association in Indonesia, introduced the real situation of Xinjiang's economic and social development and freedom of religious belief to Indonesian society, and enhanced mutual understanding and friendship. In 2019, more than 100 people from seven groups, including Indonesians parliament, political parties, media and Muslim groups, visited Xinjiang. They spoke highly of Xinjiang's achievements in anti-terrorism and extremism, safeguarding citizen's freedom of religious belief, promoting economic development and improving people's livelihood. Here, we also welcome you and your team to visit Xinjiang to experience the prosperity and development of Xinjiang and the happy life of people of all ethnic groups.
Global Times: Recently, a book named Survivor from Chinese Gulag depicts that a Uygur woman living in France named Gulibahaer Maihamuti, was detained when she returned to Xinjiang and got persecuted in the vocational education and training centers in Xinjiang. Media like Le Monde and Le Figaro have reported on that. What comment do you have?
Elijan Anayat: Gulbahar Mahmutjan, female, Chinese nationality, Uyghur, 55 years old, from Karamay city in Xinjiang. She has been in absence of her work for a very long time, she was once a early retirement employee of engineering and technological company of the Xinjiang Oilfield Company. She's complete secessionist and extremist. Her self-claimed experience in Xinjiang is total nonsense.
It has been verified that: Gulbahar Mahmutjan is a member of World Uyghur Congress, and has taking separatism and terrorism as her career for a long time. In 1985, together with her husband Abuduklim Hatwaji, answering the call of separatist Dolkun Asa and taking part in separatism parade in Urumqi. Then they joined the World Uyghur Congress which is an organization of separatism, secretly conducting separatist activities and plotting terrorist attacks.
On May 26, 2006, she brought her two daughters Gulhumar Abuduklim and Gulnigar Abuduklim, crossing the boarder holding Chinese passports, living with her husband Abuduklim Hatwaji (Vice President of France Branch in World Uyghur Congress) who has settled in France in guise of political asylum. Then with her husband, she clutches closedly with heads of East Turkistan Organization, plotting series of separatist activities that echoes the "7`5" anti-China parade. Her daughter was also induced to join World Uyghur Congress, wearing flag of east turkistan demonstrating her stance in the parade.
In the meantime, Gulbahar Mahmutjan and her husband kept contacts with liaison in domestic, planning to instigate terrorist attacks. In 2009, she went home with the excuse of visiting her families and attended the instigation of Urumqi "7.5" incident, and she also wanted to make similar thing in Karamay. During July to August in 2012, February to March in 2014, April to May in 2016, she and her husband and daughters made multiple entries in China and attempted to conduct terrorist activities.
In November 2016, Gulbahar Mahmutjan alone went home in disguise of dealing with formalities of retirement, again, she wanted to instigate terrorist activities. Since she had long been engaging in separatism and extremism activities, her acts were rigorously investigated by public security organs after she came home, and then she was arrested according to law.
On Jan 29th 2017, the public security department started an legal investigation against Gulbahar Mahmutjan and held her under criminal custody on the same day. During the investigation, she first hid the truth and attempted to sheild the sin of her family members and gave false testimony. After she was exposed of her guilty, she changed her attitude and kept on hiding her terrorist crimes, alleging that she had realized the seriousness of the criminal acts and the harm caused by her husband and her eldest daughter and pled guilty. Given her pleading of guilty and repentance, the judicial department made the decision with leniency not suing her. During her criminal detention, all of her legal rights and interests were protected.
Then, she live a normal life in Xinjiang, travelling and visiting in Urumqi, Karamay, Yili, Altay and many other placed for times. In addition, she also wrote a letter of repentance, in which she wrote her husband's role in "the World Uygur Conference" and the separatism and extremism activities of her daughter were all illegal. She persuaded them to stop those criminal acts. Relevant domestic departments considered that her elder daughter needed care because of the coming delivery, though Gulbahar Mahmutjan was suspected of crime, she was allowed to apply and to leave the country for humanitarian reasons.
After going abroad, instead of being grateful for leniency, Gulbahar Mahmutjan returned to her separatist and terrorist nature and fabricated all kinds of so called "encounters" in China.She claimed that she was "coaxed to return to China and got arrested", but in fact, she return to China voluntarily on the pretext that she had to return to China to sign the Early Retirement Contract of the Xinjiang Oilfield Company after the expiration of the time limit for leaving her post.She said she has been sentenced to 7 years of "re-education". In fact, the judicial authorities never investigated her for criminal responsibility, moreover, there is no such thing as "re-education", so where does 7 years of "re-education" come from?As for her claims of "detention abuse and sterilization" ,which is even not worth refuting, she has been visiting relatives and friends and traveling in Urumqi, Karamay, Lli, Altay and other places, so where does the "detention and abuse" come from? What is even more ridiculous is, does she need to be " sterilized" at age 55?
In the meantime, the friends and colleagues of her all know about her poor morality, habitual lies and her turbulent personal life. When she lived in domestic, she fornicated with other people and was exposed by her neighbor. After her going abroad this time, in order to gain favour from the anti-China forces, she colluded with "the World Uygur Congress" and made up all those lies, which once again exposed her immorality and that she is a person without any sense of integrity and shame.